Sunday Services: 10:00
am & 2:30 pm
RHHOP (Redemption House, House of Prayer)
Monday, Tuesday, & Thursday 10:00 am – 2:00 Wednesday Men Only 10:00 am – 2:00 pm
The prayer house is a time to be in the presences of the Lord. To give unto God through worship and communication, and if your in need of prayer there are people there to pray with you. At times the spirit moves through peace or Warfare birthing powerful prophecy. If you're interested in growing in your prayer life this is the place to be. 
Discipleship Training
Every Tuesday Night at 7:00 pm
If you want to grow deeper in your relationship with God and connect with others, keep reading! The RHLC Discipleship Training Course is starting this Tuesday, 1/14/2020, at 7:00pm with an overview and introduction by Chad Davis. The Discipleship Training Course (DTC) is using spirit-filled books by Tim Johnson called C4 Discipleship Pathways. This explosive material will equip you to be mentors, either in groups or with individuals, and will enable you to fulfill the Great Commission in Matthew 28 to make disciples of all nations. The books will be available for purchase in both hard copy and electronic format. 
Childcare will be provided.
Food Ministry
Wednesday Evenings and Saturday Afternoons (every day if needed)
Food Give Away
Contact Doug 443-694-8360 (for any questions or if you would like to help)
Contact Pastor Jeff Smith 571-325-0488 (for any questions or if you would like to help)
Contact Joe Cool 443 257-5038 (for food boxes to be made)
We are now meeting on the 1st and 3rd Wednesday of every month @7pm in the Fellowship hall. We will start every night with coffee, cookies and ice breaker games!!! Come fellowship with your sisters in the Lord as you learn about those who paved the way before you! Childcare will be provided for children 5 and under.
Redemption House LIfe Center is excited to announce that their Youth Group is up and running! Pastor Tracy has stepped into the role of Youth Pastor and can't wait to lead the next generation into power and glory! Meets the 2nd & 4th Thursdays of each month @ 6:30 pm.
4th Saturday of every month. Occasionally, if the church is needed for a conference, we will change it to the 3rd Saturday of the month. Please follow the dates above.
502 Victory Way, Pasadena, MD
Bring a covered dish to share as we fellowship before the marriage class.
Child Care will be provided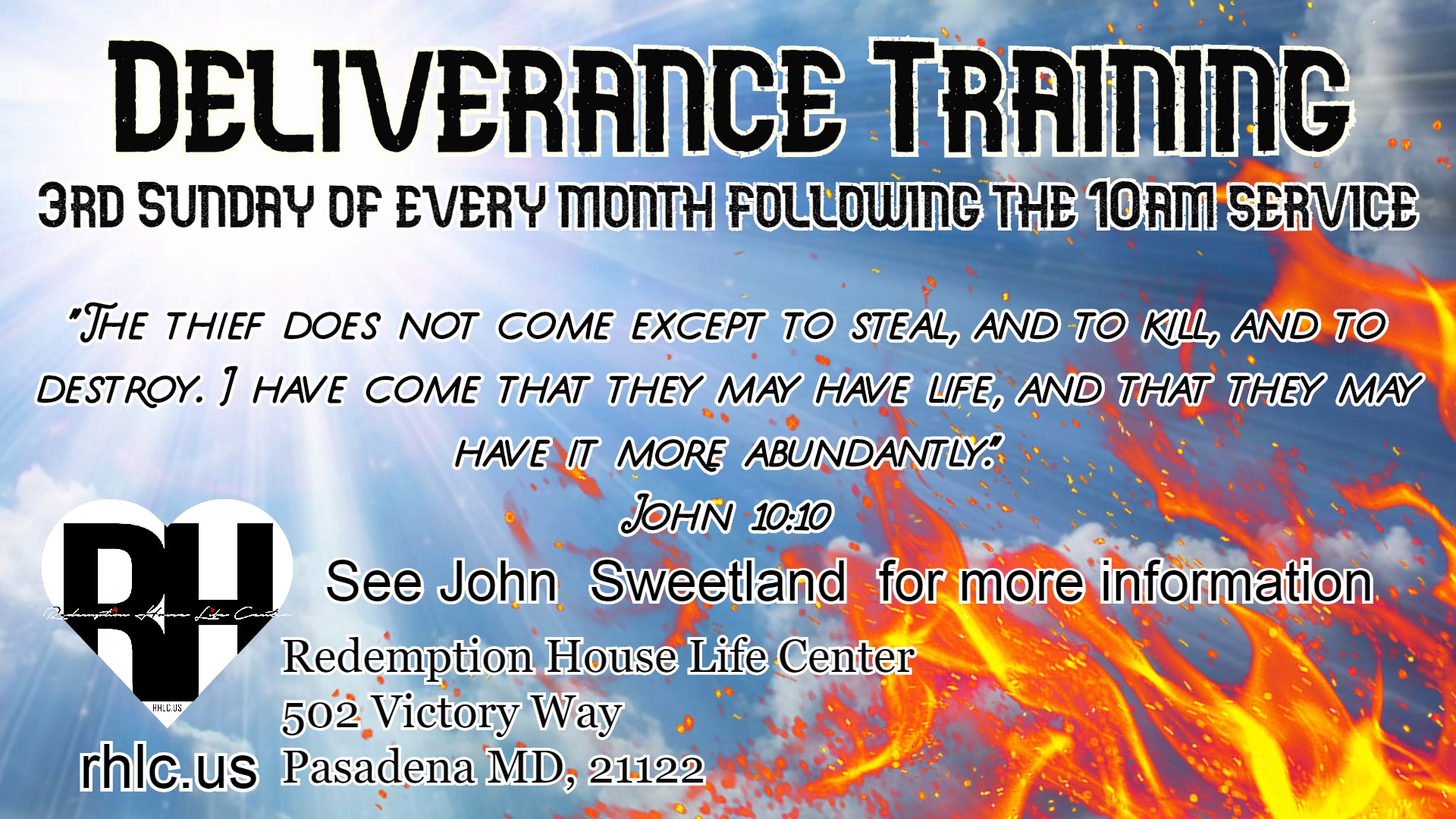 Deliverance Training
We have deliverance training the 3rd Sunday of every month following the 10 am service. See John Sweetland for more information.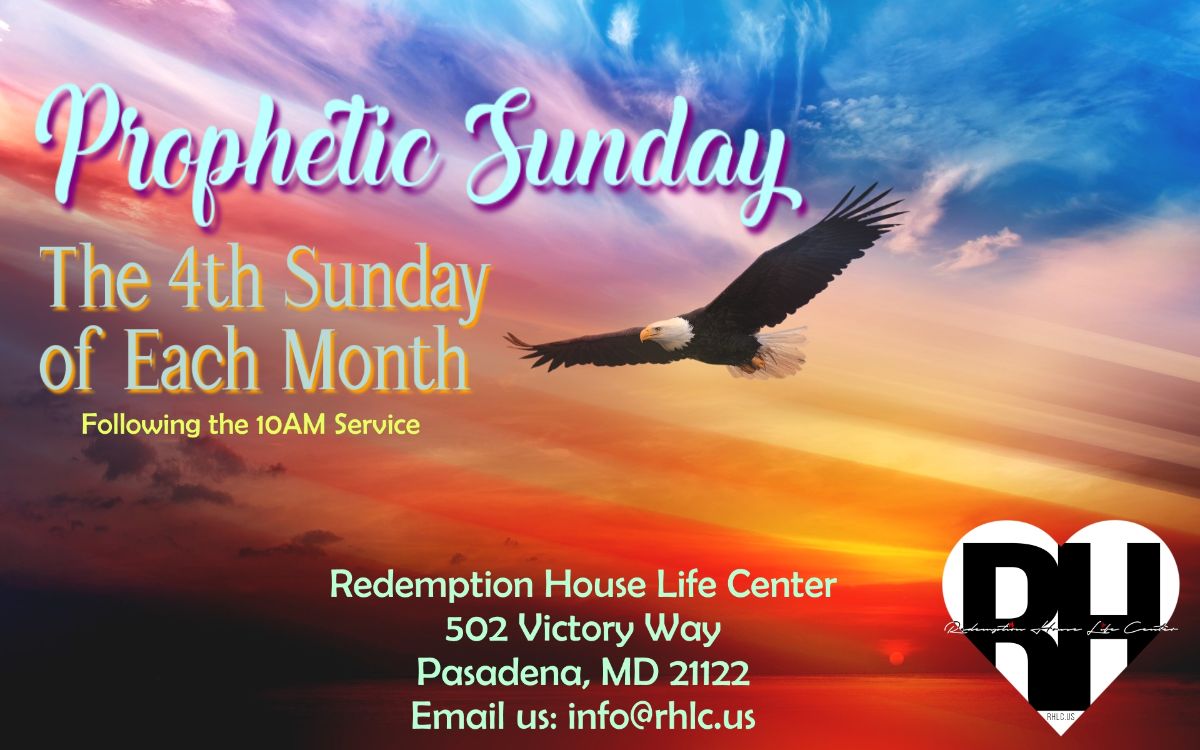 Prophetic Sunday
4th Sunday of every month our prophetic team ministers to the congregation through prophecy and love.
A group of buisiness owners, entrepreneurs, and those aspiring to be learning to apply KINGDOM principles to the business world.
2020 Here we come
Check out our exciting new events comeing up this year at Redemption House Life Center
All event dates are subject to change due to current events.
Hey Ladies!!! I said, "Hey Ladies"!!! It's going down, it's turning up, it's about to explode for Jesus at Redemption House Life Center's Wild Women's Conference. Come join us as we experience intense praise, ecstatic worship, healing, laughter, joy, and impartation from God's heart to ours. And don't hesitate to bring a friend! Special Guests Patricia King, Marilyn Hickey, Katie Souza, Joyce Reed,as well as our own Pastor Tracy Whittington, and more to be announced! April 16th-19th, 2020 @502 Victory Way, Pasadena, Md 21122. See you there!!!
Childcare will be provided for children 5 and under for evening services.
Come join us Sunday, April 19th @ 2:30 pm as we celebrate the grand opening of our new building. Celebrate with us during this special event as we declare, decree, bless, and experience prophetic release. Special guests include Katie Souza, Marilyn Hickey, and Joyce and Carlton Reed. Marilyn Hickey dedicated this building 30 years ago and a great movement of God happened during that time. She will be rededicating our building again as we are believing and praying for God to move again like never before! We are asking, seeking, and knocking! We are stewing in anticipation and are deeply hungry for a move of God to happen for our church and region.
Kirby de Lanerolle and Fiona started WOW LIFE (WOW aka "Works of Wonder") in response to the wondrous works of God in a community of believers.
Kirby de Lanerolle and Fiona's lives are exactly that…Kirby's grandfather was a Methodist priest and parents business people who were charismatic church planters. Kirby was very close to his grandfather who encouraged him to lay hands and pray for healing from the age of 7.
Kirby de Lanerolle is currently 44 years old and has walked in influence and impacted both the government and corporate world.
He will be speaking at both our morning and afternoon services, as well as at 6:30 for an encounter night.
Guest Speaker Abner Suarez
Abner Suarez is the founder and President of For Such A Time As This, Inc. He is an ordained minister with the Apostolic Network of Global Awakening under the leadership of Randy Clark. He holds both a Bachelor of Science and Master of Education degree from Campbell University in Buies Creek, North Carolina. He also holds a diploma of Master of Ministry from the Wagner Leadership Institute. He is an avid reader, coffee drinker, and New York Jets fan. (taken from abnersuarez.com)
Prophetic Gathering
We are expecting a POWERFUL time in the prophetic realm during our Prophetic Gathering being held June 4th- 7th, 2020.
We will be joined by dynamic guest speakers such as Mark Chironna, Jamie Galloway, and more to be announced. Come on out and let's experience an amazing time together!
Childcare will be provided for children 5 and under for evening services.
Freedom Fest 2020
Save the dates: July 2nd thru July 7th, 2020! Special guest Dan Mohler and more to announce! Don't miss out on our annual 4th of July Picnic with live music, awesome food, and life-changing words from God's heart!
Childcare will be provided for children 5 and under for evening services.
Marriage Conference at Turf Valley Spa and Resort
     We are excited to announce our Marriage Conference being held at the Turf Valley Resort and Spa in Ellicott City, MD from July 29th to August 1st, 2020. Rooms will start at $120.00 a night. At its core, love is a decision to be committed to another person. Some topics to be covered will be love & commitment, sexual faithfulness, patience & forgiveness, and communication.More details to be announced. Speakers will be Pastors David and Tracy Whittington, Bill and Tracy Vanderbush, Joyce and Carlton Reed, and more to be announced.
     On Saturday, August 1st, there will be sessions for single people. We will be cover topics such as the proper ways of dating/how to know if they're the right one, what does singleness mean, the meaning of being equally yoked, being a single parent, and moving on from divorce. Speakers will be Kristofer Pandohie, Jacquelyn McConnell, Cheri Michie, and more to be announced.            Childcare will be provided for all children 5 and under.